These rooms don't have much to do with each other, except that I came across them on decorpad and liked them.
I love the gallery wall with the silhouettes -- such an intestering configuration of frames. The orange pillow combination with the wall color is different, but I like it.
Bold wallpaper can really make a space and it is so pretty and dramatic in this dining room. The blingy chandy is fabulous too!
And speaking of gallery walls, this one is great. Love the mix of frames and art work. But my favorite part has got to be the chevron wall.
And I'm sorry for my absence here recently. I have been busy at work (I know, it's the story of my life). Anywho, I have been gearing up for a mediation on Tuesday, which means I don't get my day off tomorrow; but on the upside, the case may settle and I may have a part of my life back! My list of things to blog about (tell me I am not the only one that keeps one of those) and my house to-do list are growing and nothing is being crossed off either!
Oh, and in case you haven't noticed . . . I have a blog button now!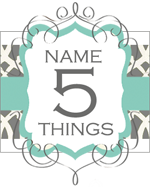 Hope you all had a wonderful weekend!